Laurence Philomène: No Boys No Girls No Nothing
Artist Laurence Philomène
Words Christian Ruess
Carlos' latest book, Corazón Salvaje is a unique selection of photos documenting everyday intimacy, pictures of people that we may or may not see ever again as well as a series of self-portraits. "Times of introspection help me take ideas out of my brain, to always keep on shooting."
While some of these images were undoubtedly born out of spontaneity, others give a feeling of being wonderfully staged or can be easily mistaken for outtakes of a movie – although this is as far from the truth as it can be. "Normally, I never think about composition. It comes naturally with the idea, right about when I shoot it."
"All my work is about my personal life, my own experiences, so it's my individual view of the world but a lot of my identities as politicized so I think the work becomes political in that way."
First of all: How are you? What did you do before starting to answer this interview? We are a bit curious where in the world you might be right now and what you are working on.

Hi! I'm in Montreal (in Canada, where I live), and right now I'm in the middle of moving into a new apartment so that's mostly what I've been spending my time doing! Aside from that, I am slowly working on a retrospective book which will be published with editions lemaitre in Paris later this year.
Let me tell you, that we were very grateful to show your non-binary portraits in the last two years at the Vogelball, Dockville and Reeperbahn Festival. And we really like to see that the Hamburg connection is not breaking up – just because I am not part of the game anymore. You deliver the artwork for this year's Vogelball – how comes?

Vogelball reached out to me about collaborating on artwork for this year's festival so that's how that happened! Most of the international work I do I get just from people reaching out to me via email and asking me to work with them, I'm very grateful for it.
Let's make a short trip to the past. What or who was your first motive when did you start with photography?
I started taking photography more seriously when I was around 13-14, I was collecting these dolls called Blythe dolls and took pictures of them that I would upload online on Flickr, so those dolls where my first muse. Around that age I really used photography as an escape, kind of as a way to create my own little universe I could exist in.
Becoming an artist – was that totally clear to you from the beginning? Or did you have any other visions and dreams when you were a child? And what does that tell us about you?
I always wanted to be an artist in one form or another – when I was little I would write little books all the time, I thought I would become a writer, but I was always carrying cameras around so I think it was pretty clear from a young age that I'd be a photographer. I think what this says about me is that I've always been obsessed with documenting different aspects of my life.
Since we first took notice of your work, I always had the feeling of seeing your work everywhere. You seem to be very busy and always on the go. Or am I wrong about it? How is that for you?

I'm a workaholic so you're not wrong!! Recently I took a week off for the first time in years…I think I'm a little bit addicted to photography, it keeps me going and if I'm not working on a million projects at once I don't know what to do with myself. It's probably not good but there's worse coping mechanisms out there I guess? I have adhd so my brain is always going super fast, thinking of a new idea every minute.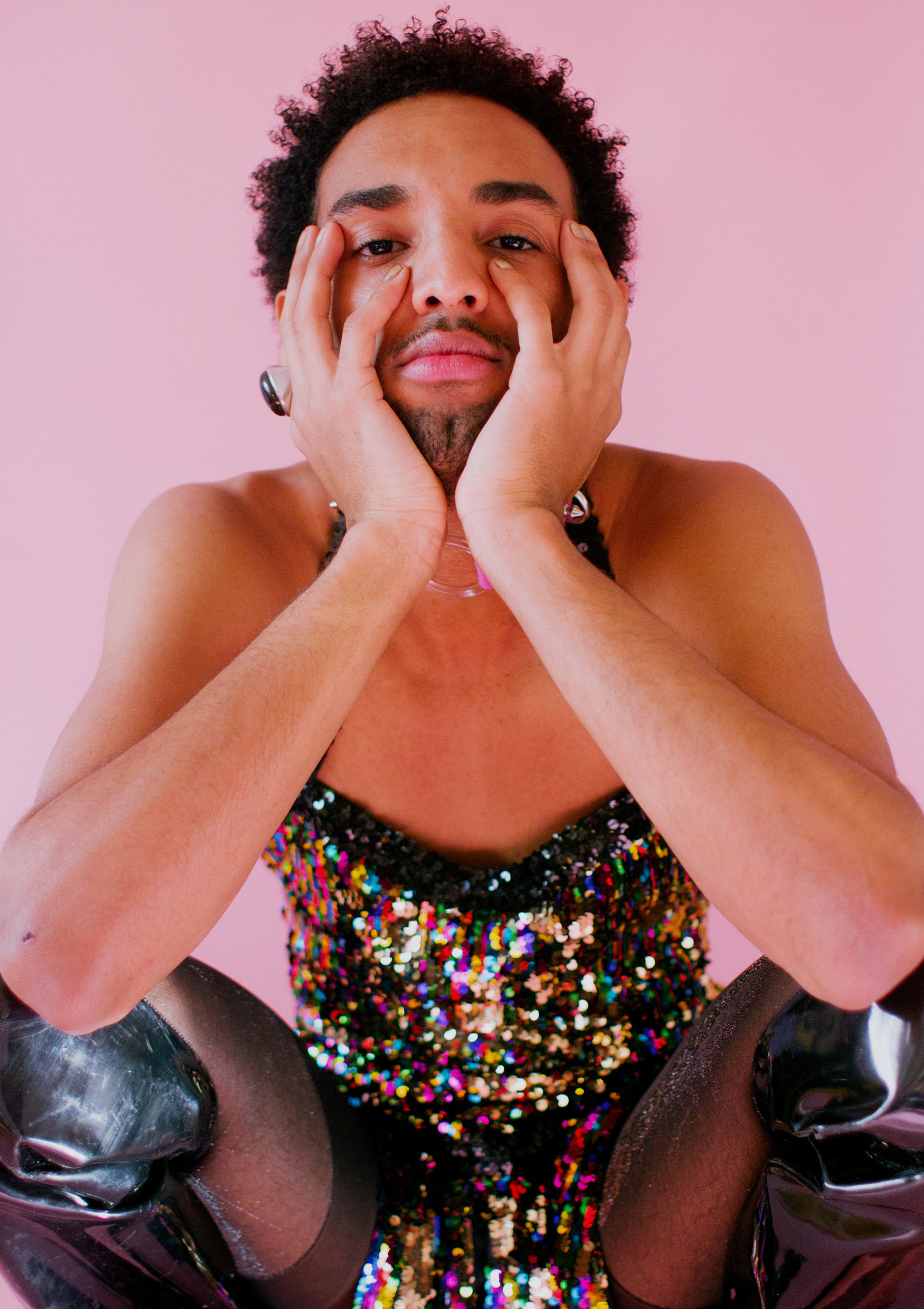 Do you agree with me saying that your work is political? Has it always been like this? And why is that?

I think so – I've said this before but I think that just existing as a queer and trans person in this day and age is a political act in itself. All my work is about my personal life, my own experiences, so it's my individual view of the world but a lot of my identities as politicized so I think the work becomes political in that way.
Looking at your pictures, your work has a very strong recognition value – on the pulse of time, if I can say so. Is a recognizable look or an own style important to become a sustainable successful artist? What kind of advice would you give growing photographers?

I think a recognizable style is the most important! That's how people will remember your work – I think it's also important not to stop yourself from growing by not always doing the exact same thing. I go through phases, and I like to let myself dive deep into whatever it is that I like at that specific moment.
Container Love's mission is to highlight the beauty in diversity, to change points of view, and stand up for more tolerance with the help of pictures and basses. Which part reminds you of yourself?

In general with my photography I want to share the love that I have for the people I'm photographing, so hopefully that shows through and helps people see beauty where they might not have seen it before.
At least let's take a quick look into your future. What is your dream or goal in your artistic work and life? Or let me ask you differently: Do you have a vision of you, being old and gray (probably rather gray with orange strands) and wise …?
I really want a museum retrospective!! That's my ultimate goal. After that, I want to get a bit of land in the countryside, build a studio and start a photography residency for other artists there.
Will we see you at Vogelball in Hamburg in August for a non-binary, non-alcoholic and low-calorie rainbow-colored cocktail?

I wish!! I'll be in Canada still but I hope you have a blast there 
Thank you for the interview, Laurence. 
Check out Laurence Philomène on Container Love' Editorial.
Check out more categories