Container Love: Where The Love Comes From
Artist Christian Ruess
Words Tom Czibolya
Now that our Visible Love exhibition series is conquering five countries across Europe, it's our time to salute the wonderful artists collaborating with us to fight underrepresentation and making Love visible for everyone. It's time to celebrate one summer of love and visibility together. Our window exhibition is taking over downtown Berlin from July 18th until the 31st with a special exhibition and film premiere in H&M's Mitte Garten on the 21st. To top it all, we are very happy to finally share the Visible Love editorial with you, featuring members of Studio Christian Ruess' very own Love Team.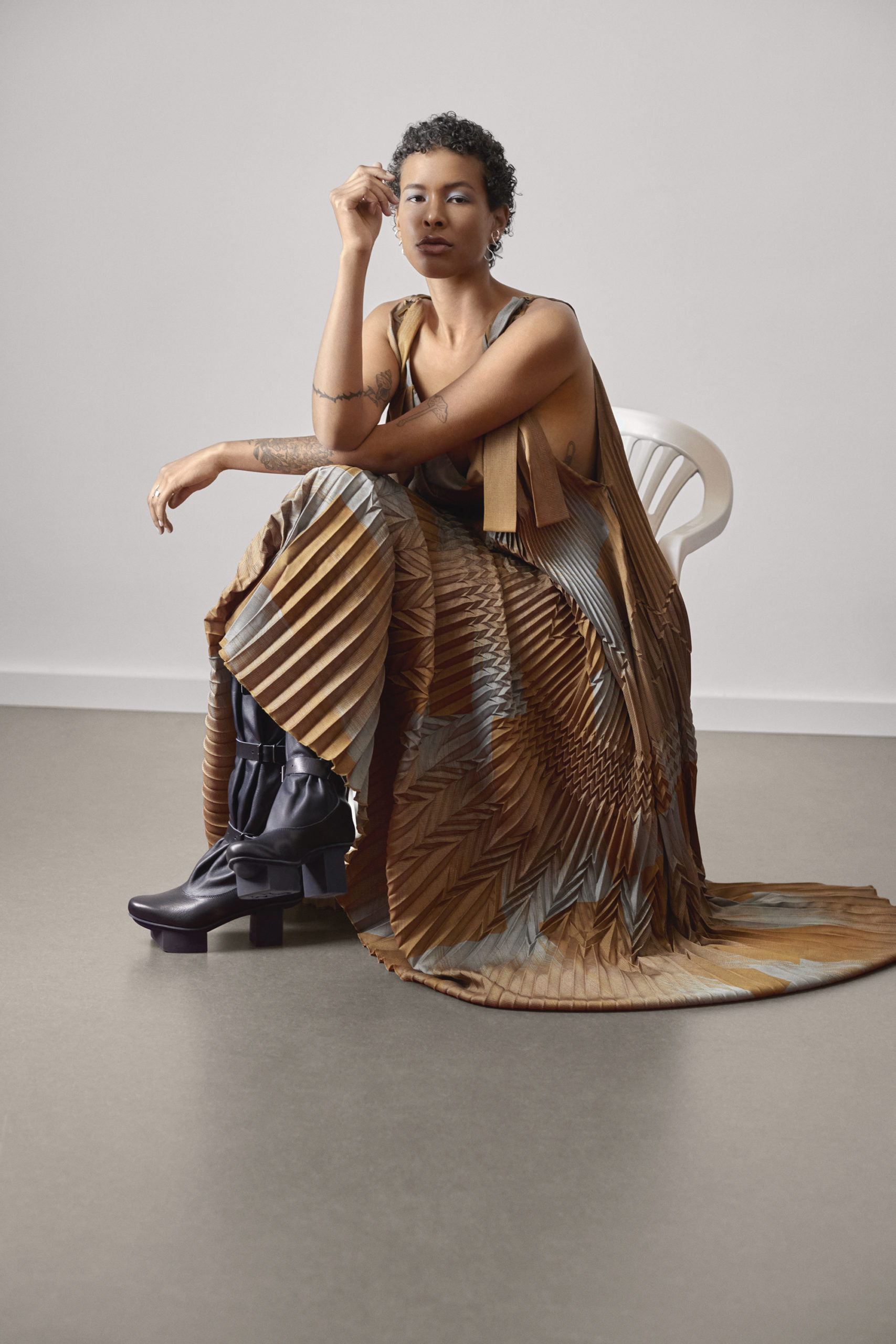 Yasmin, Graphic Designer, wears dress by Nobi Talai and shoes by Trippen.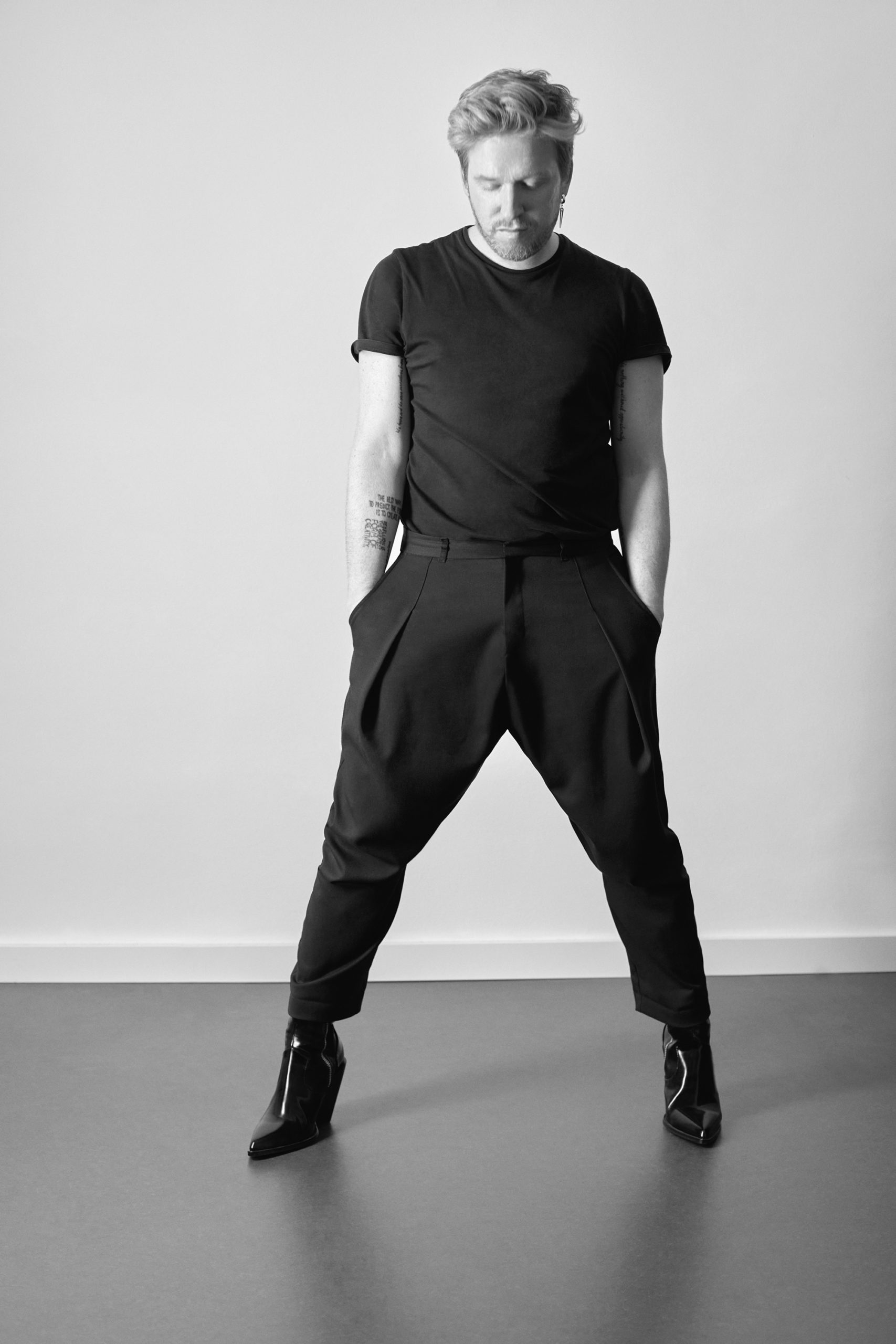 Chris, Founder and Creative Director Art, wears shirt by COS, pants by By The Number and shoes by SYRO.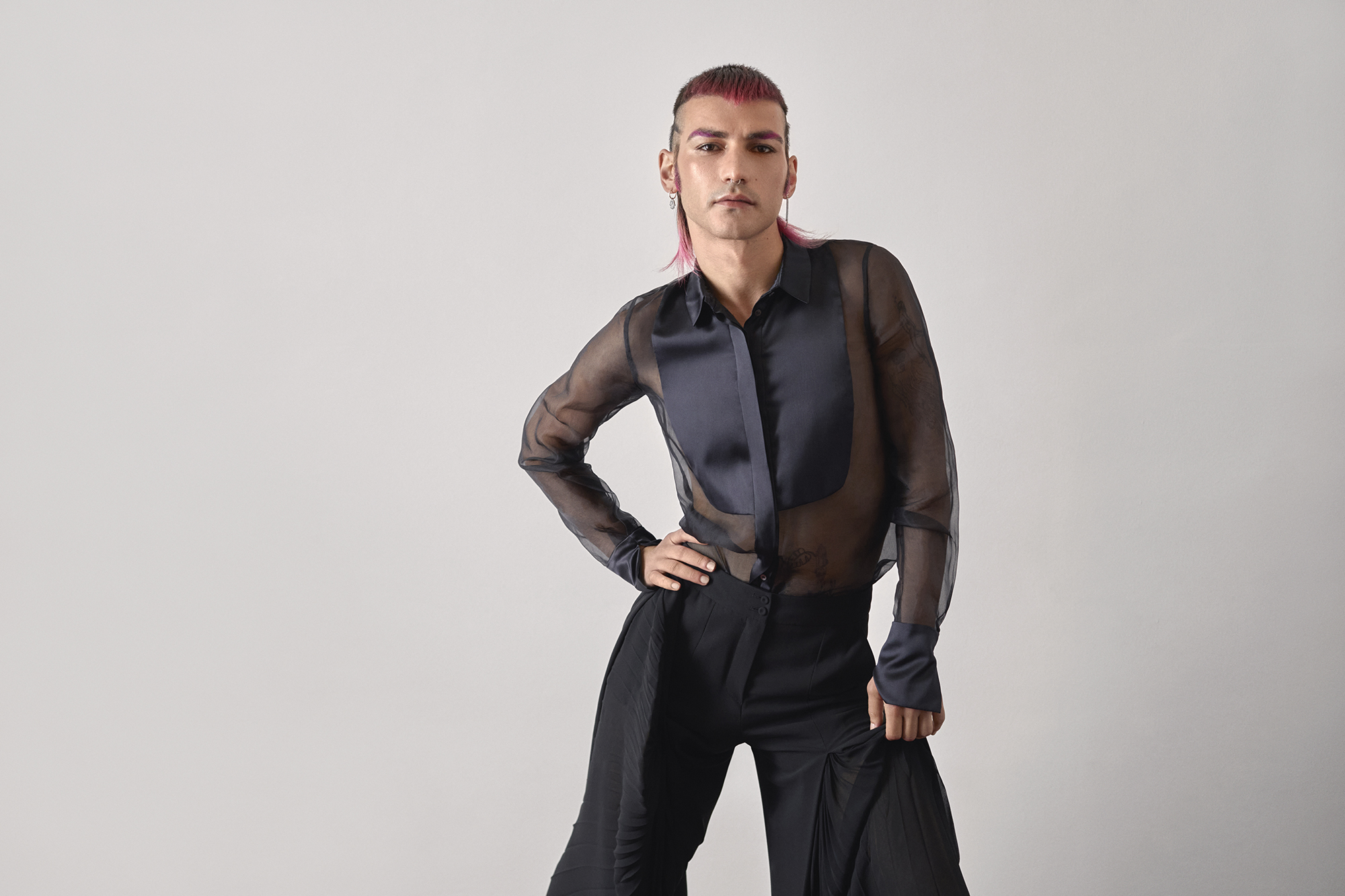 Babken, Art Director, wears shirt and pants by Nobi Talai.
"Visibility is a gateway to addressing equal rights. The more queer people are seen and represented, the less criminalized our bodies become. With #VisibleLove we're not only showing the bodies but also telling the stories – we're ready to talk."
Creatives, photographers, directors, editors, designers, artists, the people of our core team are working hard for a world that is more accepting, a society that is more equal. Coming from all over the queer spectrum and beyond, it's our duty to set an example for real inclusivity where everyone has a place at the table. We are living in strange times, times full of hate and social tension with discrimination still being present beyond the polished, corporate surface. Everything we do, including our international exhibition series, Visible Love, was brought to life to fulfill one sole purpose: to make Love visible for everyone.
An essential part of Studio Christian Ruess, Container Love is a collective of many different people, each of us coming from very different backgrounds. We are gay, we are trans, lesbian, bisexual, non-binary, straight. We are colorful, we are all over the spectrum and we are everywhere. We believe that real, lasting inclusivity can't be enforced but needs to be taught. Education and enlightenment can take many forms and our Visible Love exhibition and event series is indeed one of them.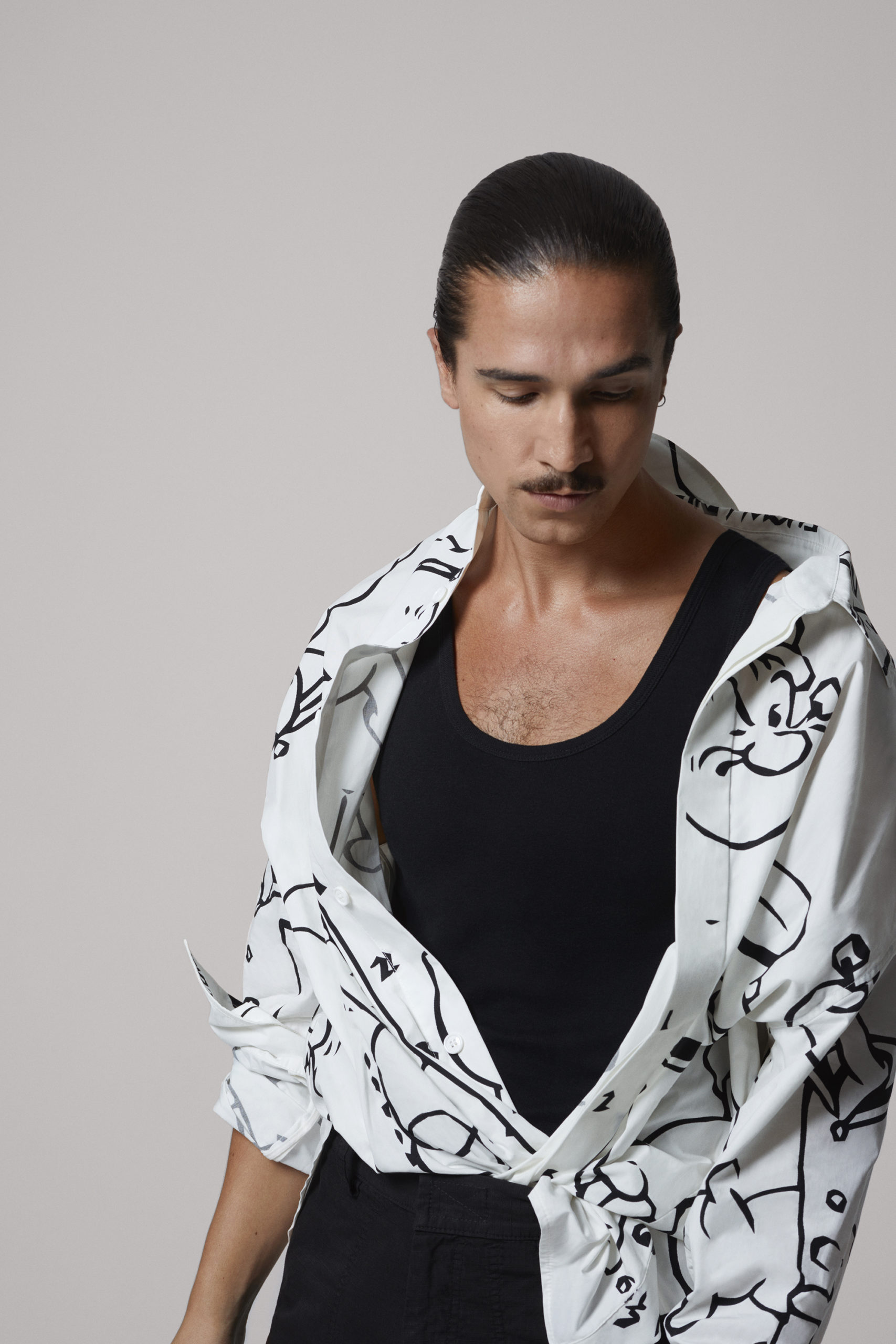 Javier, Project Manager, wears shirt and pants by Iceberg, and shoes by Vagabond.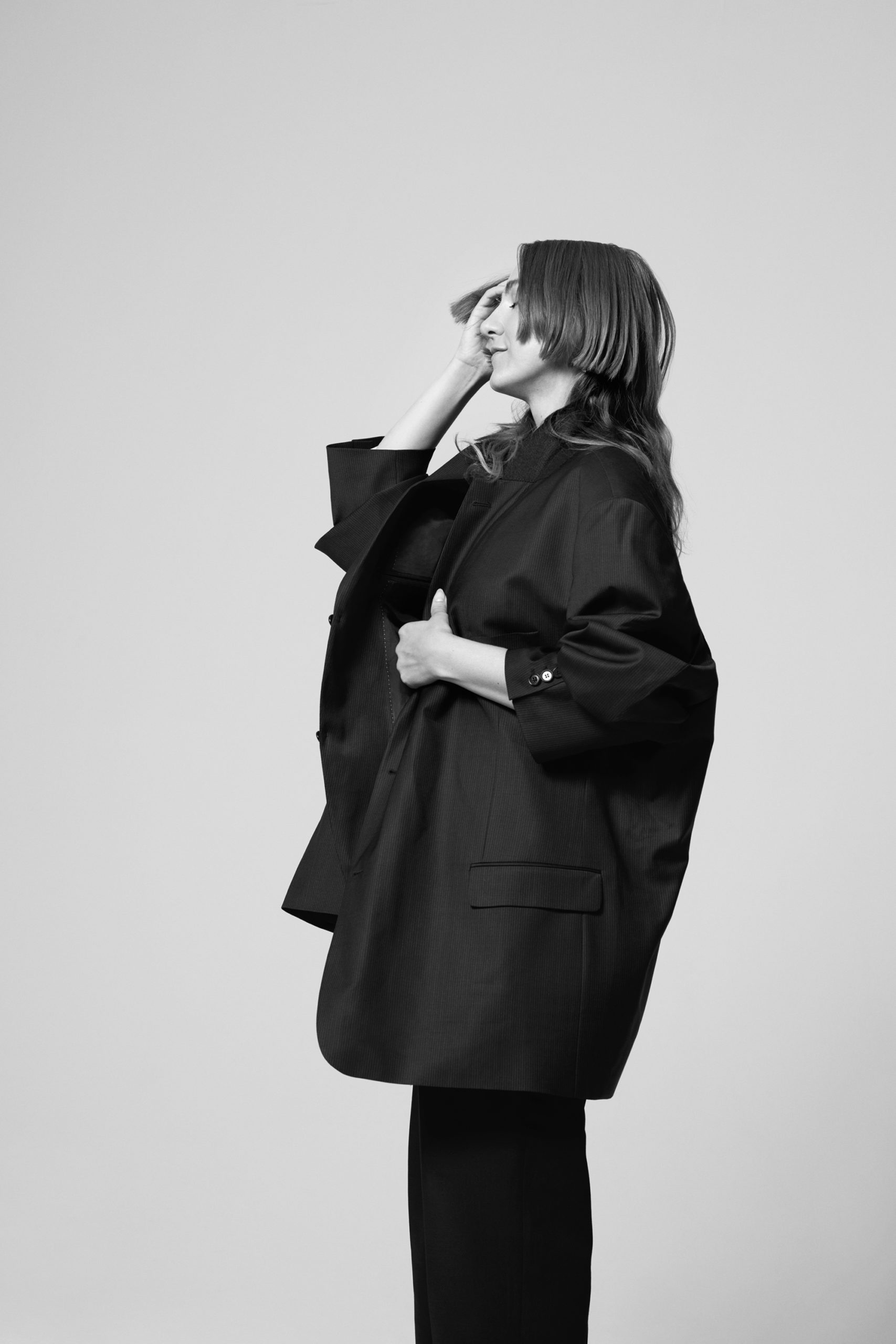 Nadine, Fashion Art Director, wears vintage blazer and pants by Hope.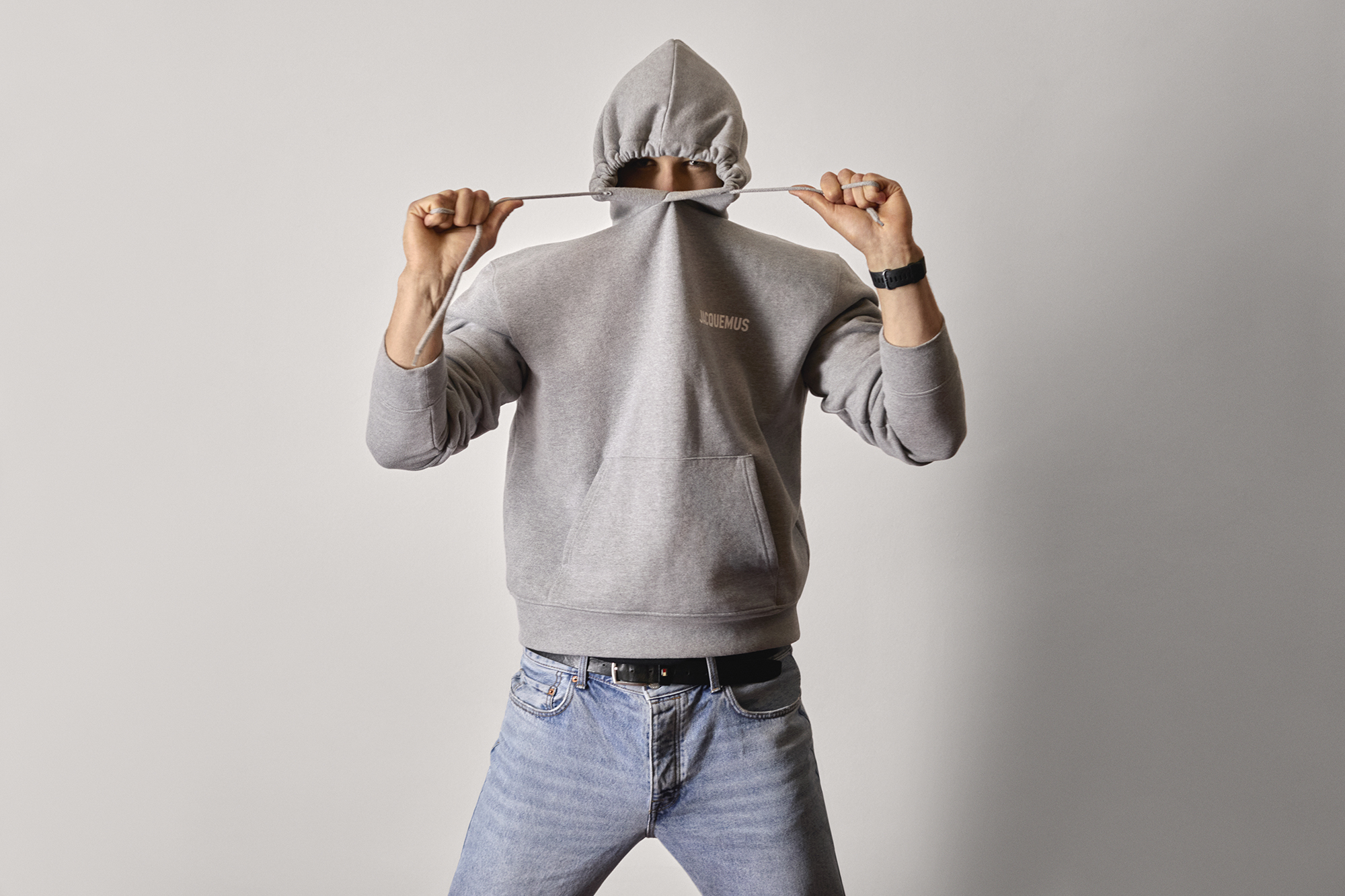 Hendrik, Graphic Designer, wears hoody by Jacquemus.
Drew, Content Manager, wears vintage suit.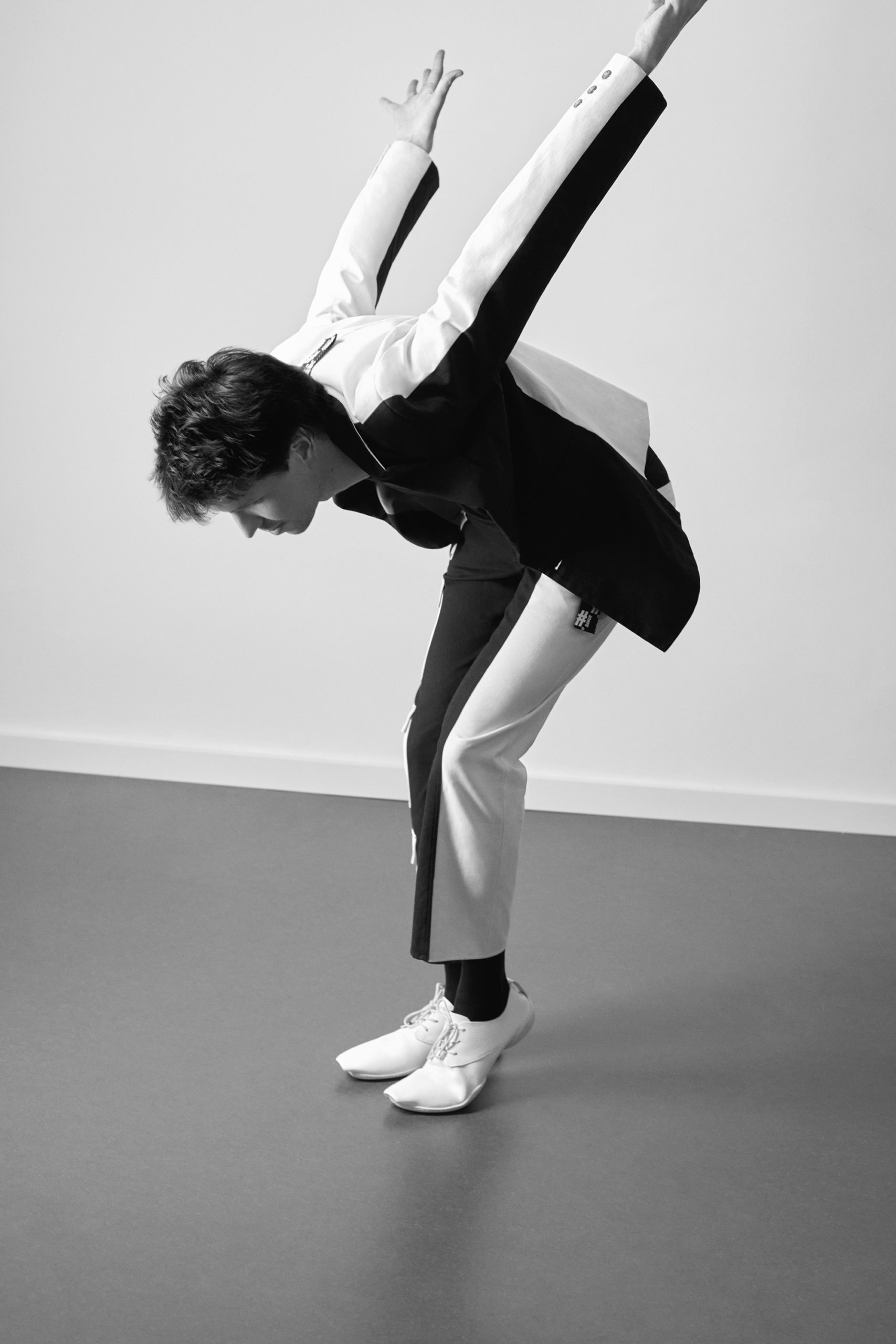 Tom, Creative Director Copy, wears suit by DAMUR and shoes by Trippen.
"People would be much happier if they would understand that there are more possibilities concerning gender and sexuality than what we've been told about. If accepting yourself can become the norm instead of hating for being different, that's a future we can be hopeful about."
Babken Sakanyan, Art Director at Container Love
Our expectations are high as we are simultaneously fighting underrepresentation both outside and within the queer community. For us, visibility is not an end goal but a starting point. It is the bare minimum yet we still need to work hard for it. We believe in the human right to feel visible and accepted. Container Love's mission is to challenge and demolish stereotypes about what queerness can look, feel like and to stop the hate. Because where hate gets no chance, love just might have one.
Nadine, Fashion Art Director, wears vintage blazer and pants by Hope.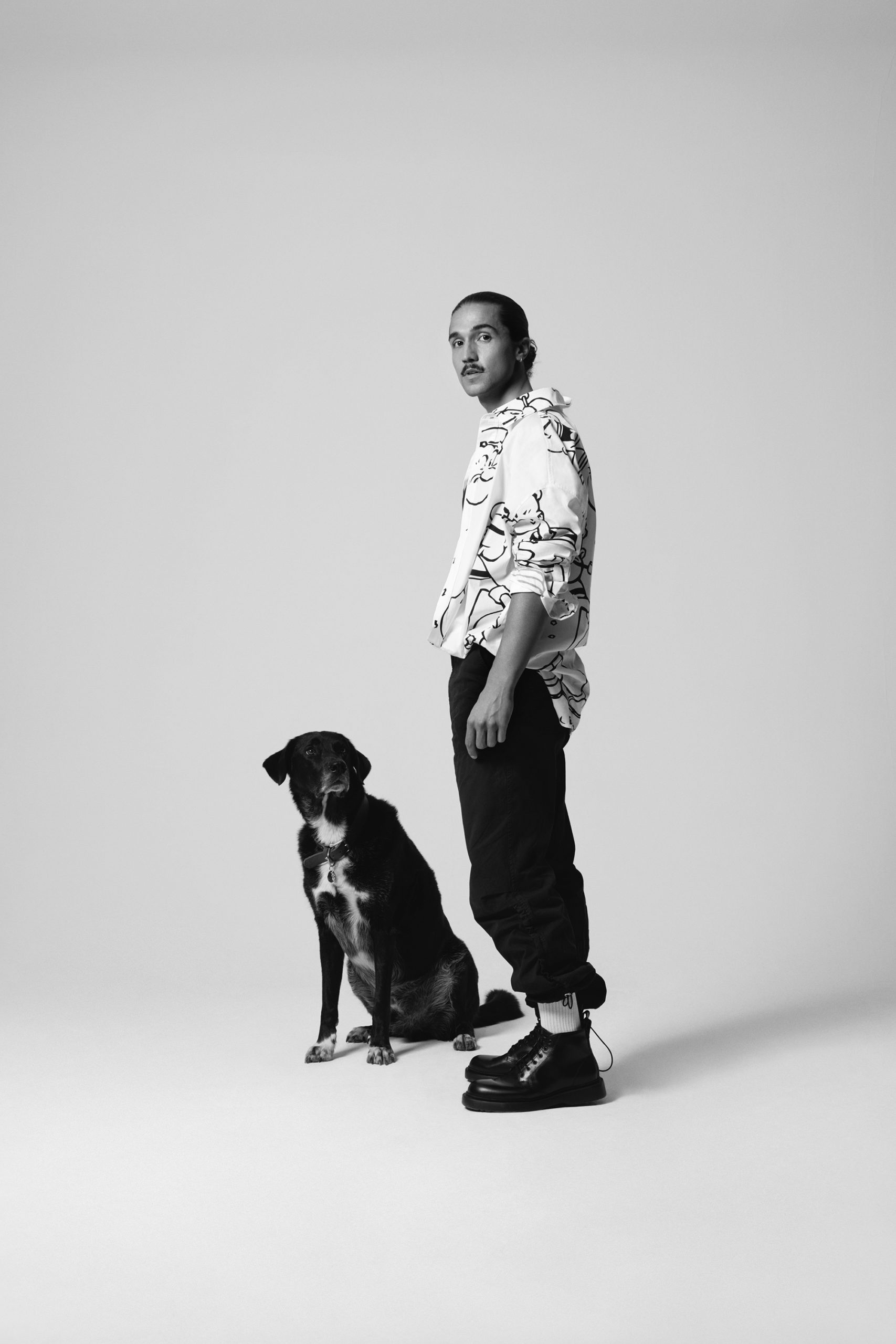 Javier, Project Manager, wears shirt and pants by Iceberg, and shoes by Vagabond. The dog is Leo.
Robin, Content Manager, wears dress by Nobi Talai and shoes by Trippen.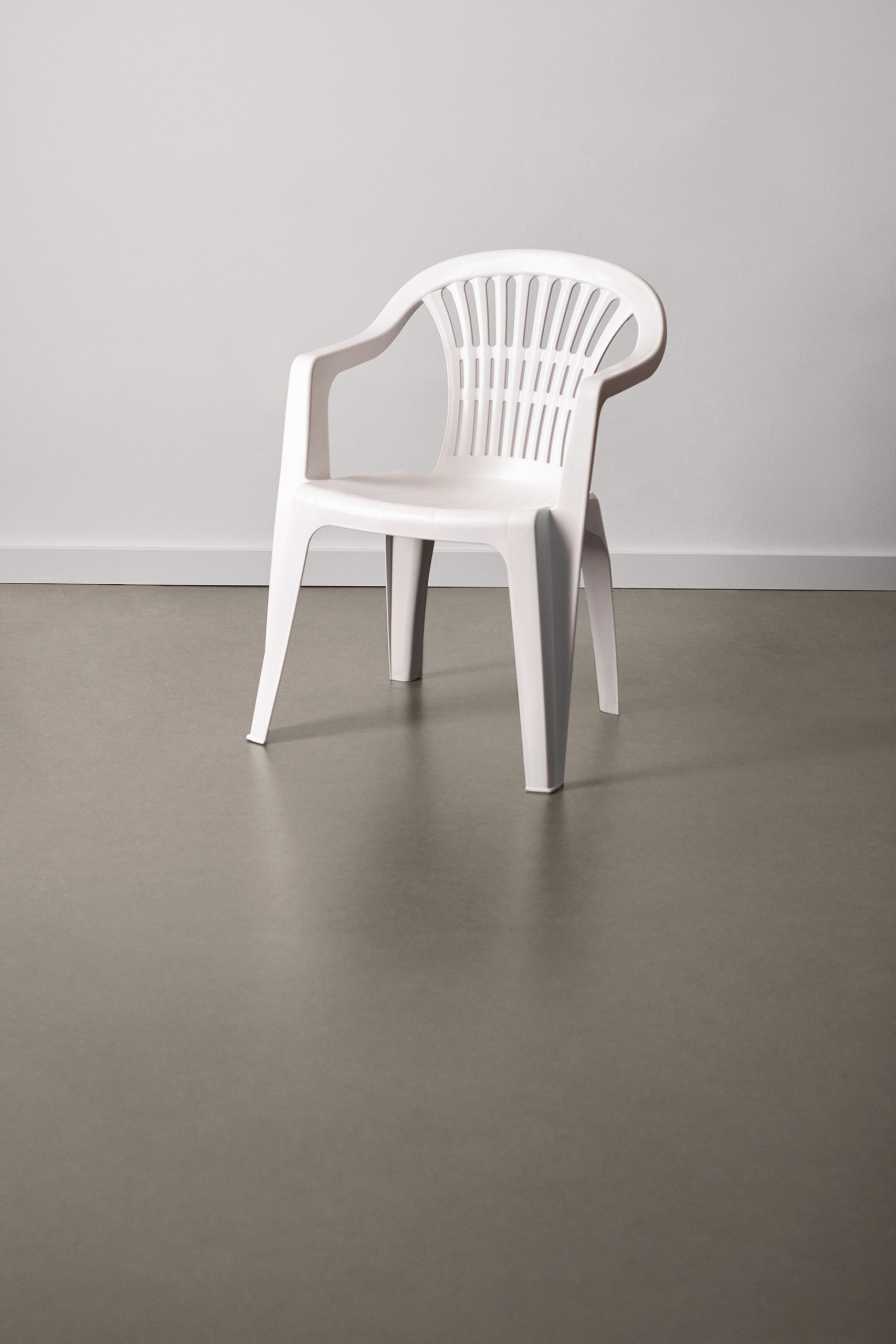 Chair decided to stay naked.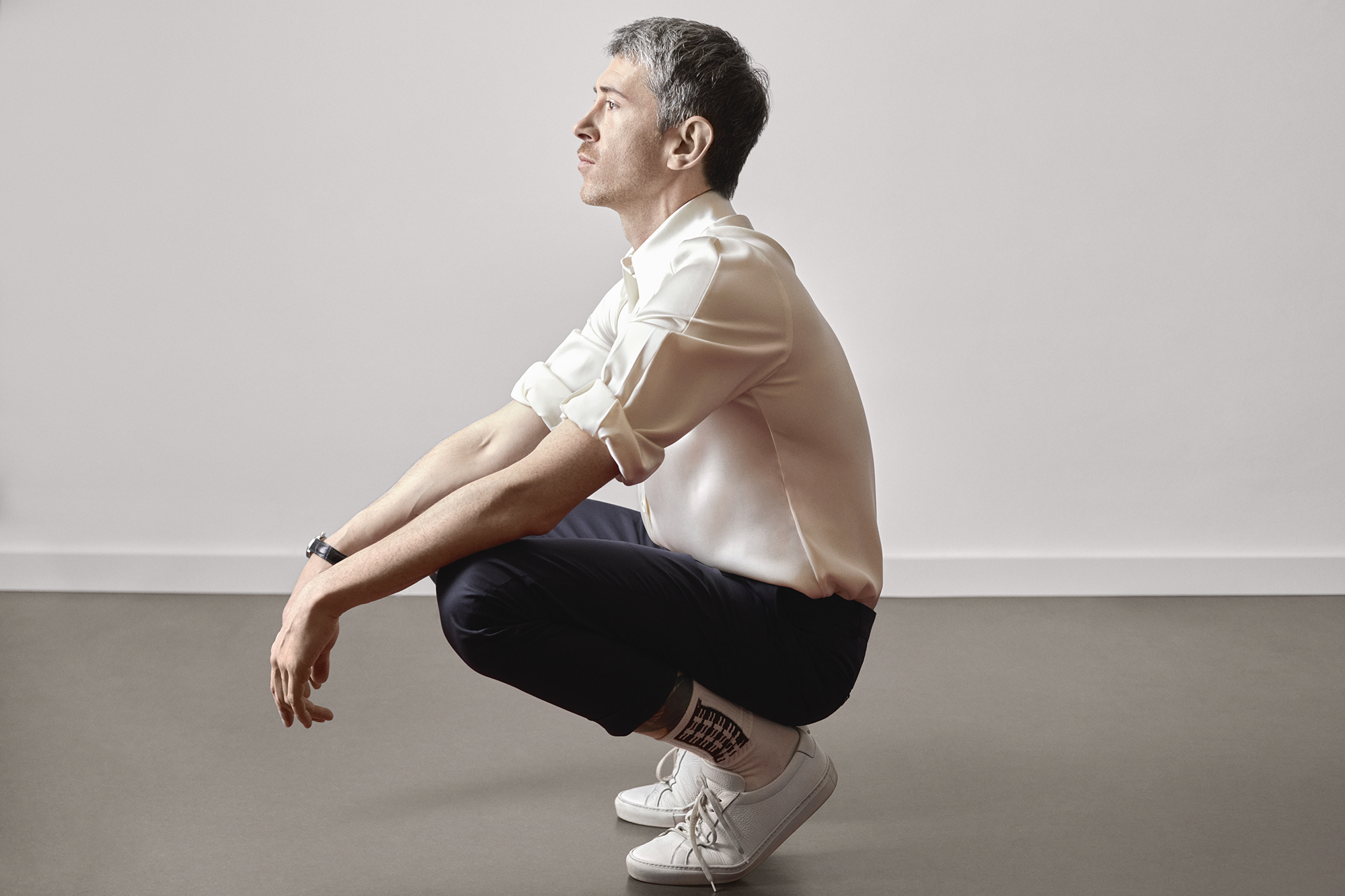 Ben, Director and Head of Film, wears shirt by Nobi Talai, socks by DAMUR and suit by Monokel Berlin.
"It's great to be part of projects that have the power to create social change through education rather than a moralizing undertone."
Ben Galster, Head of Film, Studio Christian Ruess
We have been lucky to have met some wonderful people who became our partners in crime, helping us spread love and diversity. Berlin's H&M Mitte Garten is one of our most amazing collaborators, a collective of people who understand our vision and never fail to support us however they can. Join us on July 21st in H&M Mitte Garten and celebrate our #VisibleLove exhibition, a film premiere and a mighty summer of love together!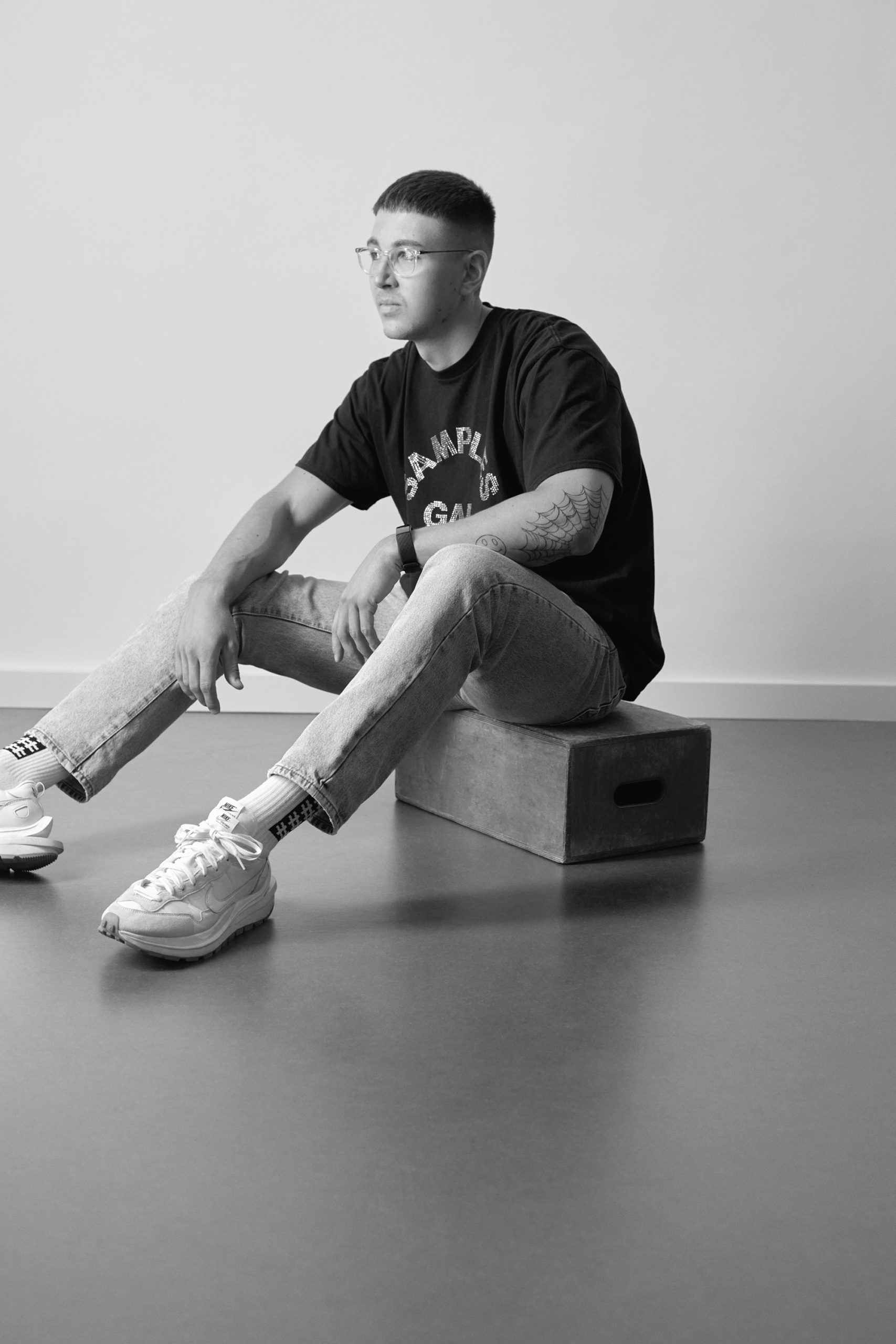 Hendrik, Graphic Designer, wears his own pieces, and socks by DAMUR.
Robin, Content Manager, wears OppoSuits.
Thank you for letting us shine DAMUR, Trippen, Nobi Talai, COS, By The Number, SYRO, Jacquemus, Iceberg, OppoSuits, Vagabond, and Monokel Berlin.
Photography Christian Ruess, Photo Assistance Maximilian Mouson, Styling Nadine Sahm, Hair & Make up Lau represented by uns* and Stefanie Mellin representedby Ballsaal.